UHMW PE chain guides is important ?
UHMWPE chain guide mainly depends on chain wear. Did you know that if a roller chains side plates get worn down by just 5% you have lost a great deal of chain strength and integrity! Using the proper chain guide will prevent this from happening thus keeping you up and running safely for a longer period of time.
See our worker fixing the UHMWPE chain guides and wearing strip video in our factory .
Its applications :
Slat Chain conveyor systems profiles , Chain Belt Inlet Guide wear strips ,
Its materials :
Green /White/Black UHMW PE polyethylene material with galvanized steel and aluminum alloy
Using UHMWPE chain guides ,the aim is to achieve quiet , smooth running and long term functional reliability . Once the conveyor chain system stop work , it will make a huge time to repair and make the cost benefit analysis down sharply . While the UHMWPE chain guides can guarantee its smooth running safely and help to save time and cost .
Our UHMWPE chain guides are so popular because :
● it is high abrasion resistance , which is 1/6 than steel on outwear
● it is resistant to acids , alkalis and solvents , will not rust at all
● excellent low coefficient of friction , even handles the worst of bulk material , still can assist in smooth and predictable flow .
● light weight , which is 1/7 that of steel
● it is easy cut and machined
● it is FDA grade material , which can be used in food industry safety .
● it is no need of oil lubrication at all , maintain cost is 0 .
Standard type and drawing as below like U shape , V shape , L shape , Z shape, flat shape , etc , any request of the UHMWPE conveyor chain guides , just freely contact us !
Welcome to visit the UHMWPE chain guides introduction article
Also we have many related UHMWPE wearing strips and blocks ,which can used in many industry equipment machinery part , welcome to visit : http://en.sdxxhg.com/product/52/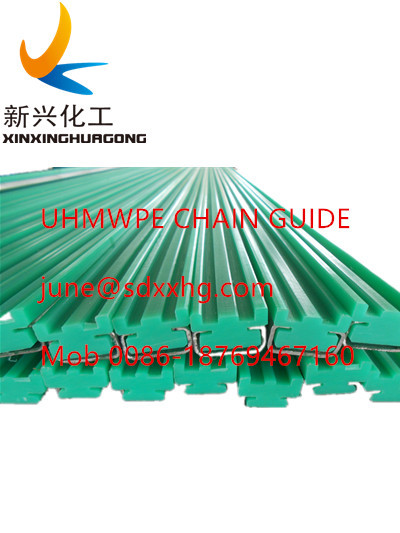 Keywords: uhmwpe,sliding,conveyor,guide,rails/chain,guide