Hdpe Plastic Outdoor Ground Protection Mobile Road Plastic Oil Drilling Rig Floor Mats
For Xinxing HDPE Plastic Outdoor Ground Protection Mobile Road Plastic Oil Drilling Rig Floor Mats , recently the 28 mm thickness type became the most popular for Europe and Russia market , clients order full containers every month , and current sea shipping status not stable , each port need to wait in the anchorage , line up and disinfect quarantine , to make the whole sea shipping more slow than before , so we kindly suggest client to make order earlier , to avoid any delay for receiving the goods .
Let us see some details of this popular road mat :
Xinxing ground protection access mat advantage :
Highest abrasion resistance of any polymer, 6 times more wear resistant than steel




2.Anti-Weather & Anti-Aging




3.Self-lubricating, Very low coefficient of friction




4.Excellent chemical & corrosion resistant




5.superior impact resistant, Noise- absorption, Vibration-absorption




6.Temperature range: -2600C ~ +800C; Very high resistance to cold, doesn't become fragile even under -1800C




7.High tensile Strength




8.Non-Toxic and smell




9.UV resistance




10.Flame Retardant; Relatively low in water absorption




11.Excellent electrical properties
Good performance in resisting environment stress crack, 200 times of ordinary PE

No adhesion




14.Light weight and easier to handle and fix




15.Cost efficient; Resulting in low energy consumption




16.Does not rot, split or crack; 100% recyclable




17.Great liner material for industrial material handling applications




18.Easy Reprocessed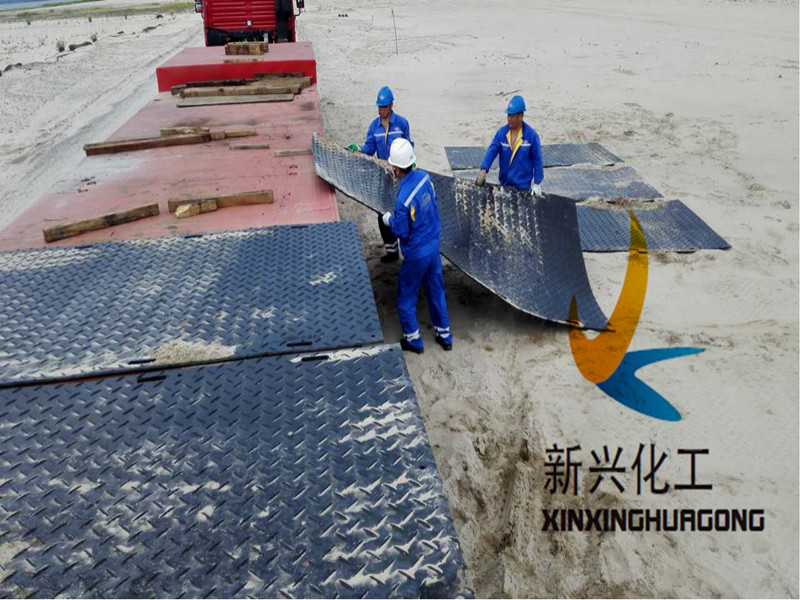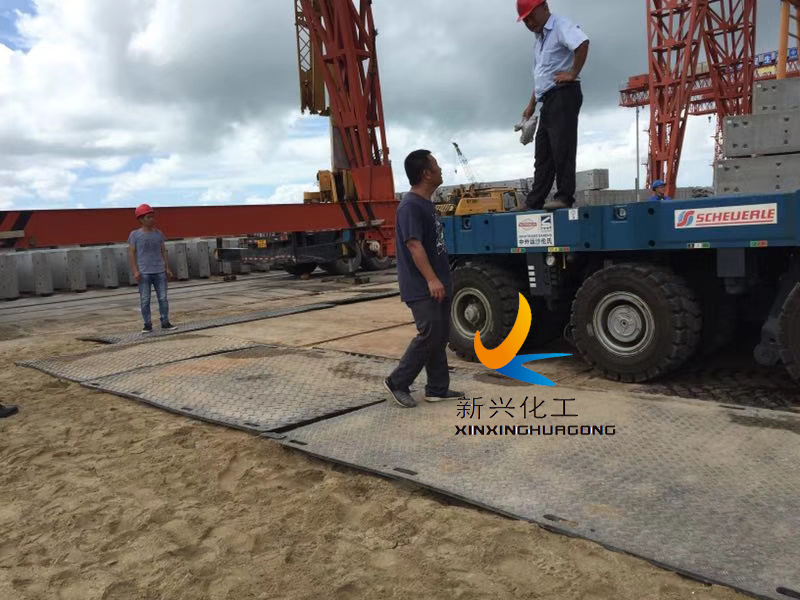 This type road mat is under extruding , please check our production video , you can see the anti-slip pattern clearly , it is strong and can firmly antiskid . Size can be 6 X 2 meters .or other customized size . Thickness 10-30 mm.
Standard specification for your reference :

Xinxing road mat can be called :
Construction Temporary Flooring Road Mat Mobile Composite Road Plate/Light Duty Ground Protection Mats Composite Driveway Protection Mat/Construction Plastic Road Plates Composite Ground Cover Mats/Black Reusable Temporary Heavy Duty Civil Overlap Composite Construction Plastic Road Access Ground Mat/Temporary Road Mat/HDPE Access Mat
Interest ? Call us ! june@sdxxhg.com
Tel:0086 18769467160
Keywords: